Chemistry is for everyone: a co-created website showcasing the work of first year undergraduate chemistry students
Dr Sarah L. Rawe
What is the idea?
First-year chemistry students from the University of Dublin have co-created the 'Chemistry Is For Everyone' website (https://chemistryisforeveryone.com/), currently showcasing 30 unique exhibits in the form of posters, infographics, games and artworks, on a range of chemistry topics. Each piece was inspired by a popular science book, and these books are also showcased on the site. 44 students selected their book, topic, format of exhibit and created content for this showcase. Alongside exhibits, they give the rationale and explain the science in their own words. Two students worked with a staff member to build the site.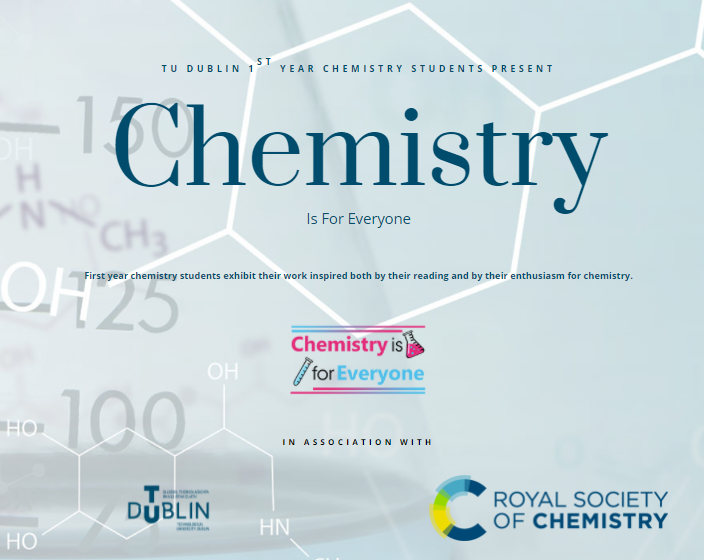 Why this idea?
Originally planned as a face-to-face event in which students would present exhibits on a range of chemistry topics to an audience of their family and friends, we produced a student co-created, online showcase in the form of the website due to ongoing health restrictions.
The central aim was to engage early undergraduate students with broader aspects and applications of their discipline, to enable them to identify as chemists and to feel part of the chemistry community. Positive attitudes towards their discipline have been shown to correlate positively with student persistence and performance (Villafañe & Lewis, 2016; Xu et al., 2013). This is helped when students have the confidence to participate in the conversations of their discipline community.
The benefits of working with students as partners (SaP) in higher education includes enhancing students' enthusiasm and their motivation to learn and encouraging the traits of self–directed active learning (Mercer-Mapstone et al., 2017). A whole-class co-creation approach was used by involving students in the decision-making processes throughout which was important in assigning ownership of and responsibility for the project to the students, ensuring it reflects their interests and priorities (Bovill, 2020). Two student volunteers worked directly with staff to design and build the website.
How could others implement this idea?
Each student submitted their contribution (we called this their 'exhibit') to the website via the VLE. Exhibits included digital artwork, a sculpture (photographs), a printable game, posters and infographics. The brief required that each exhibit was inspired by a popular science text and was accompanied by explanatory written work. Templates for the written work and an assessment rubric were given at the outset, along with very clear guidelines on good digital citizenship including Creative Commons licensing, avoiding plagiarism and infringement of copyright.
MS Forms was used to facilitate student-decision making throughout. They could 1) choose to work alone, in pairs or in groups, 2) choose a book from one of four provided texts or choose their own (approval needed), and 3) decide on the format of exhibit and 4) volunteer to work on the website design and building process.
Our Web and Online Media Officer supervised two student volunteers in designing, organising and uploading the student-generated content to the website. The site was supported by the RSC Outreach Fund (https://www.rsc.org/prizes-funding/funding/outreach-fund/), therefore we purchased a domain name, hosting services (for a 3 year period) and SSL (Secure Sockets Layer, 1 year) for €290 ($343 usd). The funding also allowed us to provide a popular science book to each student.
The website was 'launched' and promoted with once to twice daily posts via the School's social media accounts over a one-week period.
Recommendations
Be flexible and allow students to make decisions.
To ease student anxieties:
We recommend a relatively low-stakes assignment (in this case the 10 % of a module).
Exemplars (e.g. links to online exhibitions, science infographics, chemistry themed arts and craft projects, posters) should be provided.
We recommend that students can opt-out of public display without penalty and can, at any time, request that their work be removed.
We used an experienced web designer, but many tutorials are available online if you wish to build a site yourself.
While you can build a website at no cost, we recommend purchase of a domain name (a URL which identifies the website and is easy to remember and find), which is a relatively inexpensive, one-time registration fee.
While our funding allowed us to provide books to each student, articles from publications such as Chemistry World would be suitable and free alternatives.
Templates and rubrics help to scaffold student submissions and manage expectations.
Written pieces were relatively short (200-400 words per student), making the review and feedback process manageable.
You should make sure that you allow time for review and feedback before the proposed launch. Time is also needed for students to act on feedback and make changes before public release.
It is also important to re-emphasise good digital citizenship at the feedback stage (particularly with respect to all images).
A free custom analytics tool can be used to assess the impact of your website. You can track the number of visits (sessions, page views, average session duration and bounce rate), new vs. returning visitors, top 10 countries of those visiting, top pages and where visitors were referred from (from Twitter, Facebook, etc).
Transferability to different contexts
Recent events have emphasised the importance of good communication skills for anyone working as a professional scientist. We propose that this project is broadly transferable across all STEM subjects.
However, its transferability can be extended by using it as a vehicle for STEAM collaborations in which students from arts or design programmes (for example) work with science students to create exhibits and communicate science topics.
While our project involved first year undergraduates, by changing the nature of the reading material used from the popular science books employed here (or Chemistry World articles suggested above) to research articles or reviews, the approach could be used to develop literacy skills with late-stage undergraduates or early-stage postgraduates.
Finally, as it was carried out in a virtual environment, it could be a suitable project for those interested in providing students with a collaborative online international learning experience.
Links to tools and resources
Examples of good science infographics, a blog article about making effective infographics and a free tool for preparing infographics:
Articles and examples – Art and Chemistry:
Science Communication Skills:
References
Bovill, C. (2020). Co-creation in learning and teaching: the case for a whole-class approach in higher education. Higher Education, 79(6), 1023-1037. https://doi.org/10.1007/s10734-019-00453-w
Mercer-Mapstone, L., Dvorakova, S. L., Matthews, K. E., Abbot, S., Cheng, B., Felten, P., Knorr, K., Marquis, E., Shammas, R. & Swaim, K. (2017). A systematic literature review of students as partners in higher education. International Journal for Students as Partners, 1(1), 1-23. https://doi.org/10.15173/ijsap.v1i1.3119
Villafañe, S. M., & Lewis, J. E. (2016). Exploring a measure of science attitude for different groups of students enrolled in introductory college chemistry. Chemistry Education Research and Practice, 17(4), 731-742. https://doi.org/10.1039/C5RP00185D
Xu, X., Villafane, S. M., & Lewis, J. E. (2013). College students' attitudes toward chemistry, conceptual knowledge and achievement: structural equation model analysis. Chemistry Education Research and Practice, 14(2), 188-200. https://doi.org/10.1039/C3RP20170H
Image Attributions
Figure 1.  A screenshot of the 'Chemistry Is For Everyone' Website by Sarah Rawe is used under CC-BY 4.0 Licence
---