Developing student engagement and ownership through Team Based Learning in a large group setting
Alison Bailey
What is the idea?
Covid-19 has led to learners missing out on education with online classes provided to a greater or lesser extent depending upon the school or college attended, resulting in a negative impact on their education through a loss of learning and general well-being (Stringer & Keys, 2021, p. 1). These concerns have been at the forefront of module convenors' minds in deciding how to teach and engage learners on large, first year, core online modules.
Enter Team Based Learning (TBL)! TBL is a powerful, active learning pedagogy. It engages learners, builds teamwork and collaboration, leading to a positive learning experience, employability skills and good module outcomes.  TBL works very well in the classroom, but can it be just as successful and achieve all of the above online?
The following chapter explores the use of TBL in a large core Management module, delivered online, to Year 1 undergraduate (UG) learners.
Why this idea?
TBL was first developed in the USA in 1979 by Larry Michaelsen, in response to a shift from small class teaching to large workshops (Sweet & Michaelsen, 2012, p. 5). TBL develops groups into empowered high-performing teams, fitting within Vygotsky's Social Constructivist pedagogy.
How could others implement this idea?
This chapter explores TBL and its methods further, however it is useful to understand the module structure, as follows. Do learning outcomes reflect the module objectives? Which behaviours/skills do you want learners to achieve by the end of the module?
The module was structured in the following way:
Weeks 1-5: Learners are placed into permanent. Learners acquire and understand a considerable amount of information through pre-reading, lecture and workshop content.
Weeks 2-5: TBL Individual Readiness Assurance Tests (iRATs) and Team Readiness Assurance Tests (tRATS) occur at the start of each workshop, followed by a mini lecture (to clarify points) and a mini application exercise to reinforce concepts and theories. Evidence-based appeals are lodged by students for perceived misleading or incorrect questions/answers.
Week 6: Learners knowledge and understanding is tested via an online MCQ (40% weighting).
Weeks 7-9: Teams work on a large complex application activity – business simulation (60% weighting).
Weeks 10-11: Teams present a business plan from the business simulation (60% weighting).
The Teams
Place learners in permanent teams in the first workshop to allow enough time for them to become high performing, self-managing teams. Why permanent teams? Trust is an important aspect that will improve decision making. Why diverse? Research has shown that diverse teams are more innovative and high performing than homogeneous teams (Lead Inclusively, 2021)

A simple, unbiased and transparent method to create teams: ask learners to line up across the classroom – those whose hometown is nearest to the university on the left; those whose hometown is furthest away from the university on the right. Learners need to organise themselves geographically. Group teams by number e.g. all 1's, all 2's. Adjust visually imbalanced teams, ie, too many international learners, too many females/males.
Weeks 1-6: The Process: iRATS, tRATS, Mini Application Activities
Team Readiness Assurance Tests are multiple choice tests (ten questions), completed by students individually at the start of each workshop (iRAT's). The test is repeated and completed by teams (tRAT's), so team members can discuss/negotiate the 'best' answer before it is revealed by the lecturer.
Mini application exercises are specific problems completed by teams in the remainder of the workshop. Teams are required to report back simultaneously before the end of the workshop. This facilitates deep knowledge and team development.
Weeks 7-11 The Business Simulation
Figure 1. 4S Framework
A Business Simulation was selected as the large complex application activity as it fits well within the TBL 4S Framework (Sibley, et al., 2014). All learners face the Same, Significant Problem which is complex and unique. However, learners have Specific Choices in how they run their business and the content they use in the presentation. Each week, the 'business rank' of each team was published meaning Simultaneous Reporting occurred.
Business Simulations are useful ways to give learners a realistic experience of the complexities in starting an enterprise. Teams set up the same global business. They assign key roles eg CEO etc and run the business in an ethical and sustainable way.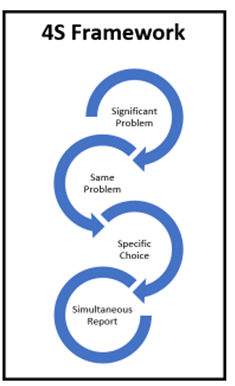 One week represents one year's trading. Teams work on the simulation in workshops but need to work on it outside class time to complete each round; underlying the need for organised and high performing teams to be established, and why TBL activities in Weeks 1-6 are so useful in developing teams.
Business rank positions are published weekly, based on Total Market Performance using a balanced scorecard. The final assessment has three components: business plan presentation (30%), overall business rank (20%), team (peer) evaluation (2%) and Business Coach evaluation (8%).
In Weeks 7-11, class hierarchy is removed from the classroom (Spoto, 2014, p. 86; hooks, 1994, p16). Learners become empowered entrepreneurs; lecturers become facilitators – the Business Coach.
TBL and the Business Simulation proved successful, receiving positive feedback from students, not just about the learning experience, but about reducing anxiety as a result of the lockdown:
'One of the key aspects of TBL that I found most beneficial was being able to actually meet other learners on my course, in a time when this is not possible in person, and then discuss the topic as a group and learn from each other'.
'I think it's a great opportunity for foreign students to train their speaking and listening skills'.
'Facing the challenge of engaging in a new method of learning made me challenge myself and as a result, I have improved my teamwork skills'.
'Less stressful as you were able to share your ideas and work out problems together.'
'In terms of reducing anxiety, it made me realise everyone was in the same situation'.
Transferability to different contexts
TBL is used in many disciplines, at different levels and in different contexts. The Team Based Learning Collaborative is a good place to go for information and support.
One final point – the following quote epitomises the benefits of TBL:
'The self can draw from the skills learned and shared in the team even after the team has gone. Teams go, individuals remain – and the team experience that formed their self will inform their future educational and business practice' (Betta, 2016).
Key Words: Team Based Learning, TBL, diversity, large group setting, business simulation, hierarchy
Links to Tools and Resources
Business Simulations:
Team-Based Learning:
Peer Observation:
References
Betta, M. (2016). Self and others in team-based learning: Acquiring teamwork skills for business. Journal of Education for Business, 91(2), 69-74. https://doi.org/10.1080/08832323.2015.1122562
hooks, B. (1994). Teaching to transgress: Education as the practice of freedom. Routledge.
Lead Inclusively. (2021). Why Diversity and Inclusion Initiatives Fail. 
https://leadinclusively.com/2019/06/13/why-diversity-and-inclusion-initiatives-fail-2019-diversity-and-inclusion-consulting/
Sibley, J., Ostafichuk, P., & Roberson, B. (2014). Getting Started with Team Based Learning. Stylus.
Spoto, S. (2014). Teaching Against hierarchies: An anarchist approach. Journal of Feminist Scholarship, 7(Fall), 78-92.
Stringer, N. & Keys, E. (2021). Learning during the pandemic: review of international research.
https://www.gov.uk/government/publications/learning-during-the-pandemic/learning-during-the-pandemic-review-of-international-research
Sweet, M., & Michaelsen, L. K. (2012). Team Based Learning in the Social Sciences and Humanities. Stylus.
Image Attributions
Figure 1. 4S Framework by Alison Bailey is used under CC-BY 4.0 licence
---